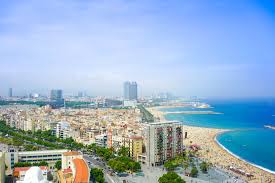 Barcelona is one of the most popular travel locations in Europe as it offers the perfect getaway for travellers. The old city has excellent public transport, beautiful architecture, great city life, and of course a place to enjoy the beautiful beach.
Barcelona is considered one of the most fun, energetic, vibrant cities in the world, which makes it a perfect tourist destination for anyone wanting to visit. One way to enjoy Barcelona is to plan a four or five-day tour. So how do you spend your first day in your Barcelona City trip? Here is a few recommendations of great places to see as you wander around the city.
There's good public transportation you can take to reach the Arc de Triomf of Barcelona. From there you start your walk to Palau de la Música Catalana and enjoy a short walk through the popular neighbourhood of El Born. A district within the historic centre of Barcelona where you can enjoy art galleries and boutique shops in the small streets.
Then make your way to the Cathedral of Barcelona. Go to the Gothic Quarter district which is one of the oldest and most beautiful districts in Barcelona. You will also love small bars, restaurants, and shops around the area.
You can get to see Arc de Triomf, Palau de la Musica Catalana, El Born, the Gothic Quarter and Cathedral of Barcelona on your first day of Barcelona tour. It's truly a very fine city you should not miss while you are travelling to Europe.